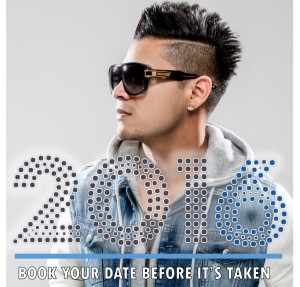 On behalf of AJ Castillo and company, we hope that the first half of 2015 has gone great for you so far. AJ has had the pleasure of performing throughout the US over the last several years and 2015 has been a SUPER BUSY year so far, as you can see from the Tour | Events tab. AJ's fan base has continued to grow and we are blessed to be one of the most booked bands in the industry. I credit that to the hard work that AJ & his team have put in to their music, live stage productions, and their interaction with the fans.
Book Your 2016 Date Before It's Taken…Dates for 2016 are filling up fast if you are interested in booking AJ Castillo for your public or private event you can reach AJ's manager Arturo Castillo at 512.825.6353 OR E-mail us at AJCastillomusic@yahoo.com and include:
Phone number(s) where you can be reached
Possible event date(s)
Event type (i.e. wedding, quinceañera, festival, public dance, etc.)
Location (City/State)
To ensure successful delivery of our emails to your inbox, please add AJCastillomusic@yahoo.com to your address book).